HOME COMPANY
One Stage Injection Stretch Blow Molding Machine
Why PET
---
PET bottles are widely used in the beverage packing industry, mainly because PET is non-toxic and highly resistant to impact. Furthermore, PET looks crystalline and feels like glass, giving the container a better appearance than PVC, PE, or PP which have lower transparency. As a result, PET bottles and containers are playing the leading role in the container packing industry.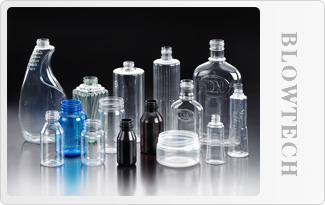 What's New
---
In reply to rapid increasing demands of PET bottle in the markets Blowplas Technology Co Ltd has put 20 years' experience and utmost efforts in developing latest technology and providing reliable servicing. Applicable products: cosmetics, pharmaceuticals, infusion bottles, detergent, mouth wash, baby feeding bottles, spice, salad dressing, food, liquor, PET Can, industrial containers Thanks to the restless efforts of the staff and personnel , Materials : PET PET-G PLA PEN PP PP-SU TRITAN PC. Blowplas is now in a position to provide customers throughout the world with the products highly competitive in performance quality and price and the global distribution and services network. From machine, molds to final product, Blowplas is the right partner you can trust and rely on.
Model BT-S & BT-J Series, 2-Station Servo Table with Side-Blow System
---
Model BT-S is equipped with 2-station servo table and side-blow system. After injection the servo table rotates 180 degrees, a servo screw then transfers a neck plate with preforms to the side-blow station. Using side-blow system a bigger work space is available, and optional devices: gate trimmer and product conveyor etc can easily be mounted inside the machine. This model is good for small containers with short cycle time. Model BT-J, has the same benefits, but is for wide-mouth jar applications, and it's a stronger machine with higher injection clamping force.
Mold Cost – An Important Factor to Face
---
In comparison to 3-station (AOKI) and 4-station (Nissei ASB) designs a 2-station machine, that needs less neck cavities and has a more effective mold width, bringing cost savings. Mold costs are an important issue in running diversified and low volume products lines. The tooling/mold cost in our simple and innovative system is the lowest of all. A full mold set includes following parts.
Hot Runner – 1 set
Male Cavity (Injection Pin) – 1 set
Female Cavity – 1 set
Neck Cavity – 2 sets
Blow Cavity – 1 set
Product Range
---
With Blowplas' flexible design, a wide product ranges can be achieved in one machine: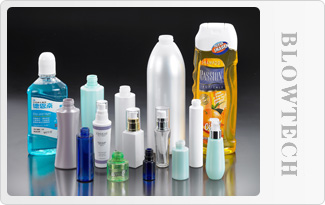 Outstanding Features
---
Simplified:
Simple mechanical structure for dependable long term use.
Economical:
Minimized mold parts leading to more economic tooling costs.
Flexible:
Perfect for diversified and low volume orders of cosmetics, shampoo, pharmaceutical containers and
wide-mouth jars.
Unique:
Multi-national patented process suitable for most thermoplastic applications.
User Friendly:
Fully computerized touch screen provides user friendly operation interface.
Energy Efficient:
In-mold preconditioning, no extra heaters required.
Standardized:
Standard air/hydraulic parts are widely available.
Technical Support:
Providing know-how and services from mold designs to final products.
The Merits of ONE STAGE Process
---
Lowest machine investment.
All processes are completed in single machine - lower labor cost.
Product has fewer blemishes thus creates higher value.
No contamination of product occur during processing.
No burrs, free from recycling problems.
Accurate neck dimensions.
Contact Us
Please contact us if you have further questions, we are always glad to speak with you.